Contactless Debit Cards!
Tap to pay with Visa contactless payments
A simple and secure tap is all it takes to pay for the things you need. Visa contactless payments make it secure, convenient and touch-free.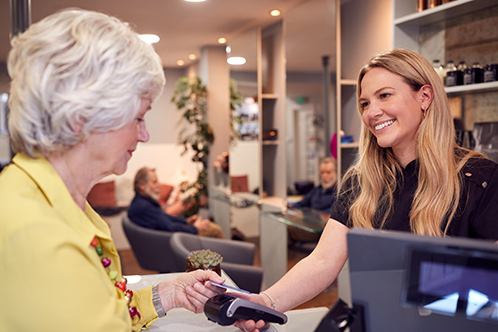 Our No Fee Visa Debit card works like a check!
To immediately activate your Debit Card or change your Debit Card PIN please call 866-985-2273.
If you are unable to change your PIN using the self-service phone line, you can email your PIN Change Request to Altra through the "Contact Us" option within Altra Online Banking, or call our Member Contact Center at 800-755-0055 Monday – Friday 7:30 a.m. to 6 p.m. CST.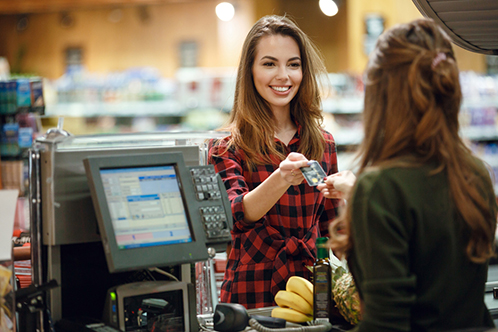 Free additional benefits:
Debit card transactions are automatically deducted from your checking account, so you can check your updated balance and transaction record through Altra's Free Online Banking or by phone.
Free Merchant discounts just for using your Visa Debit card.
Receive the same security protections as Signature Purchases when you use your Visa Debit card for online, phone and mail orders that do not require a signature.
Visa's Zero Liability Policy*, which protects you from unauthorized charges. Any funds taken from your account due to fraudulent use will be returned to you.
Continuous fraud monitoring to detect and prevent suspicious activity on your debit card.
*Visa's Zero Liability Policy is our guarantee that you won't be held responsible for unauthorized charges made with your account or account information. You're protected if your Visa credit or debit card is lost, stolen or fraudulently used, online or offline. *Visa's Zero Liability Policy does not apply to certain commercial card and anonymous prepaid card transactions or transactions not processed by Visa. Cardholders must use care in protecting their card and notify their issuing financial institution immediately of any unauthorized use. Contact your issuer for more detail.
Enjoy 4 ways to pay with Visa® Debit Card
1. TAP TO PAY for purchases
A simple and secure tap is all it takes to pay for the things you need. Visa contactless payments make it secure, convenient and touch-free. For more information visit the Visa Contactless Payments page.
2. SIGN for purchases
To ensure your purchase is protected, sign for your purchase. Or, if there's a PIN pad, swipe your card, press "credit" and sign. Your money comes directly from your checking account, and you'll receive Visa Merchant Discounts if applicable.
3. Use your PIN for cash back
Think of your favorite stores as ATMs that are safe, convenient and fee-free. Just use your Altra Visa debit card and PIN to get cash back whenever you pay for your purchases at many major retailers. Depending on the store's policy, you can get an extra $20, $40, $60 or more right at the cash register. The amount is deducted directly from your checking account. It's the simplest, most convenient way to get the cash you need, and you'll save time by eliminating the need for a trip to the ATM while avoiding the fees often associated with out-of-network ATMs.
4. Purchases without a Signature or PIN
For many purchases of $25 or less you may not be asked to sign the receipt or enter your PIN. Your purchase — even if it's a $2 cup of coffee — is still protected from fraudulent activity and you'll receive Visa Merchant Discounts if applicable.
Instant Issue Visa Debit Card
Our Member Contact Center can create an Instant Issue Debit Card and ship it to you (expedited shipping is available; an overnight charge will be issued). The Altra offices listed below can also instantly issue a Debit Card and activate it so you can use it immediately:
Travel Notice
Don't be stranded! 
Going across the country or around the world? Before you leave home, click on "Travel Notification" on the Online Services menu in Online Banking to submit travel plans to be added to your Altra Credit and/or Debit Card. This minimizes the chance of cards being declined. Enter the last 4 digits of your cards, travel dates and destinations, and the best way to contact you. 
You can also call Altra's Member Contact Center at 800-755-0055 or visit your local branch to speak to a member service specialist so we can add a note on your account. Whichever method you choose, please allow one business day to have your cards updated with your plans. 
International Transaction Fees
Any time you use your Altra Federal Credit Union Debit Card overseas, you will be charged an International Assessment Service (ISA) fee. This is a Visa-mandated fee for ATM and POS transactions performed outside the U.S. When the merchant runs the transaction in the local currency (or if you withdraw money in local currency at an ATM), the transaction will post to your account in U.S. dollars and you will be charged a 1% ISA fee. If the transaction is in the U.S. dollars, you will be charged at 0.8% of the transaction amount.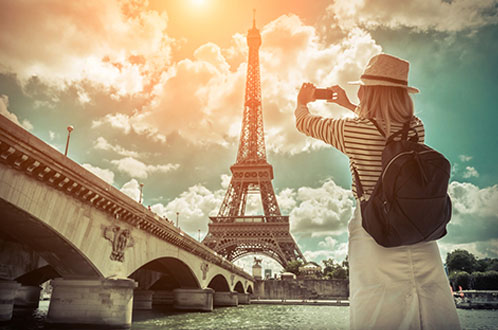 Open a New Account Today!

Open an Account

Get Started!
Visit Your
Nearest Branch


Call Us Today
800-755-0055