If your car is totaled or stolen and not recovered, your insurance may not pay everything you owe.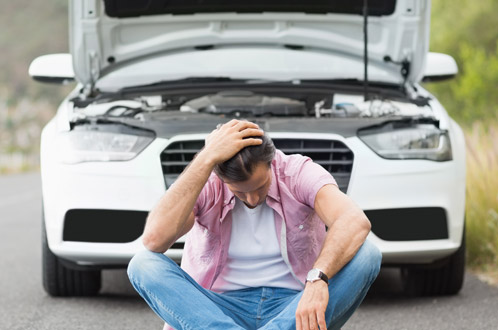 GAP is short for Guaranteed Asset Protection, but it really does take care of a gap in your insurance coverage.
A vehicle's value declines as a result of depreciation, and your loan balance can be higher than the Actual Cash Value (ACV) which is established by your insurance company. GAP reduces or eliminates the added expense and pays the difference between the ACV of your vehicle, as determined by your insurance company, and the balance still owed. As an added benefit, GAP Advantage will help you get back on the road by providing a $1,000 allowance to finance a replacement vehicle with us.
Protecting your investment takes more than insurance
In fact, if the average new car buyer has their vehicle declared a total loss because it was stolen and not recovered, or damaged beyond repair, they could still owe thousands of dollars after the insurance settlement.
How it works
You owe $14,000 on your vehicle, and it's damaged beyond repair in an accident. After subtracting your deductible, the insurance company awards you $11,000 for the damage.
Without GAP, you would pay out of pocket to cover the remaining $3,000 loan balance.
| | |
| --- | --- |
| Your loan balance | $14,000 |
| Your Insurance company pays | $11,000 |
| Loan balance (out-of-pocket expense) | $3,000 |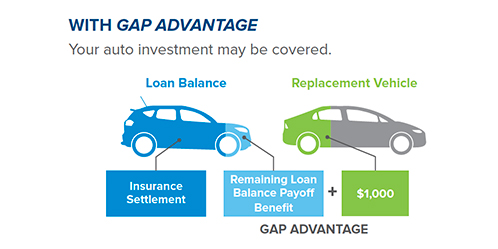 With GAP, your remaining loan balance is paid.
| | |
| --- | --- |
| Remaining loan balance | $3,000 |
| GAP benefit | $3,000 |
| Out-of-pocket expense | $0 |
| Replacement Vehicle | +$1,000 |
* GAP is considered insurance coverage in some states.