Altra's Routing Number: 291881216
LIVE CHAT
We're here to help you! Live Chat with an Altra Member Contact Specialist who will respond to your questions in real time via a secure instant message. Your chat session is SSL encrypted.
Live Chat is available Mon-Fri, 8 am-5 pm CST.
RESET ONLINE BANKING PASSWORD
Available 24 hours a day*
• From www.altra.org, select the Log in button
• Click 'Forgot Password' and then 'Go to Password Reset'
• Enter the credentials requested
• A temporary password will be sent to the email address on file.
*If an email is not received, the credentials entered do not match what Altra has on record. Please contact Altra via phone or Secure Email.
PHONE
Talk to a live Member Contact Specialist Monday- Friday 7:30 a.m. to 6:00 p.m. CST. Please visit our Hours & Locations page to find information for specific Altra branches.
EMAIL
Our Member Contact Center is available to respond to email questions or concerns Monday through Friday 7:30 a.m. to 3:00 p.m. CT.
If your email was received before 3:00 pm CT, you can expect a reply that business day. If your e-mail was received after 3:00 p.m. CT, you will receive a reply as soon as possible the following business day.
SECURE
EMAIL
Confidential information (account number, credit card number, social security number, etc) should only be sent to Altra through secure email. We offer this service at no charge to protect your privacy. You will be asked to create an ID (your e-mail address) and a password (known only to you) to send email to Altra in a secure environment.
MAILING ADDRESS
Altra Federal Credit Union
1700 Oak Forest Drive
Onalaska, WI 54650-9905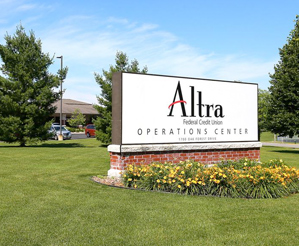 LOST OR STOLEN CREDIT CARD
Report Lost/Stolen Credit Card
Altra Visa® Signature Card: 866-820-3926
Altra Visa® Credit Card: 800-449-7728 or 800-755-0055
Altra Visa® Debit Card: 888-918-7722 or 800-755-0055
Altra Visa® Gift Card: 866-902-6082 ($10 fee for replacement card)
Credit Card Issues While Traveling
If you experience issues with your Visa Credit card or Debit card while traveling, and you are unable to reach Altra at 800-755-0055, please contact Visa directly.