Simplify your business finances with checking accounts from Altra.
Not all businesses are the same. That's why at Altra Federal Credit Union, you can choose the checking account that's right for you. Whether your business is just starting out or already growing quickly, we offer a checking plan that will help you spend less time worrying about your finances and more time running your business.
Compare business checking accounts to see which one meets your needs!
Benefits
Business Basic
Business Advantage
Business Edge
Business Non-Profit
Daily Average Balance
(to avoid fee)
$0
$500
$5,000
$0
Balance to earn dividends
N/A
N/A
Yes – Tiered
N/A
Monthly Fee
$0
$10.00
(if below minimum)
$15.00
(if below minimum)
$0
Checks Written
(monthly)

0 FREE
$.25 per item
100 FREE
then $.25 per item
150 FREE
then $.25 per item
50 FREE
then $.25 per item
Checks Deposited
(monthly)

0 FREE
$.25 per item
100 FREE
then $.25 per item
150 FREE
then $.25 per item
50 FREE
then $.25 per item
Business Edge (Checking) Rates
Rates effective December 1, 2023; subject to change.
| | | |
| --- | --- | --- |
| Minimum Balance | Dividend Rate | APY* |
| $5,000-$9,999 | 0.050 | 0.05 |
| $10,000-$19,999 | 0.100 | 0.10 |
| $20,000 & over | 0.150 | 0.15 |
*APY=Annual Percentage Yield.
Business Edge – Dividends are compounded monthly and paid monthly. The dividend period is monthly. Dividends are calculated by the daily balance method which applies a daily periodic rate to the collected balance, above $5,000, in the account each day. Dividends will begin to accrue on the business day the items are assumed collected in your account. If the balance drops below $5,000, the account will not be paid a dividend for that day, but will not lose the dividends earned for the entire month.
*The daily average balance is the total of all days in a month added together and divided by the number of days. If the daily average balance falls below the minimum required amount, a minimum balance charge will be assessed. Over 500 checks deposited/written in a month will require an account analysis and account proposal. See Business Rate Disclosure for Rates and other related fees. Federally insured by NCUA. Equal Housing Lender.
Add a Visa Business Debit Card for purchases or to get cash at ATMs worldwide; there's no annual fee and you earn reward points on purchases.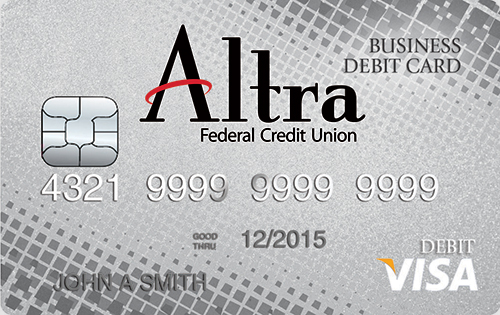 Features
No annual fee
Live customer service, 24/7
Free CU Rewards
Online account management tools
Consolidated monthly statement
Friendly, personalized service and problem resolution
Card replacement available
Your Altra Debit Card lets you:
Make Signature or PIN purchases with no fees
Get cash from our huge nationwide surcharge-free ATM network
Request cash back from a merchant without paying an ATM fee