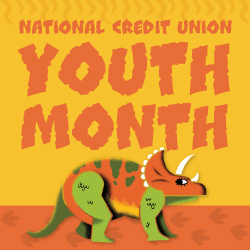 National Credit Union Youth Month
April 1 – April 30
Anyone 17 and under that opens a new savings or adds a checking account to their savings only membership will be eligible for a $20 match! You can open new youth accounts at any time online or at one of our locations.
Grand Prize & Giveaways
Anyone that opens an account in April will be automatically entered to win a 'Titanosaur-sized' grand prize package filled with an excavation kit, Jurassic World Blu-Ray Collection, a Jurassic Lego set AND MORE!
Each branch will also have prizes to giveaway to one lucky member from that location!
Social Media Contest
Throughout April we'll be running a Name That Dinosaur contest! Each week we'll post a picture of a dinosaur and you'll submit your child's unprompted answer. Each correct answer will be an entry into a drawing for a $25 gift card!
Be sure to "Like" our Facebook page and follow us on Instagram to participate! Complete instructions and rules will be in those posts, so stay tuned!
*Annual Percentage Yield (APY) for savings .05%, checking up to 2.50%, current as of 3/1/2021, subject to change. Membership eligibility required. Offer available to ages 17 and under, opening a new youth savings (new members only) or checking account (existing members) with no previous checking relationship, April 1st through 30th, 2021. Full $20 initial deposit into new youth savings or new checking required to qualify for match. Split deposits do not qualify for a cash match of any value. Cash match will be directly deposited to the account with matching funds within 30 days of account opening. Offer void if Altra youth membership or checking account was closed within the last 30 business days. One offer per member, personal account only. Not redeemable for cash and cannot be combined with any other offer. For tax reporting purposes, cash match may be reported as dividends. Contact Altra for complete details.
**Grand Prize Drawing—No purchase necessary. Existing youth members ages 0-17, print your full name, age, and phone number and mail information in an envelope to: Youth Month, 1700 Oak Forest Drive, Onalaska, WI 54650. One mail entry per youth member. Odds of winning are dependent on number of entries. Altra employees, board members and immediate family are not eligible. Void where prohibited; not redeemable for cash value.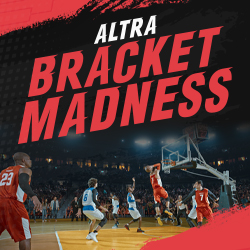 Congratulations to Altra's Bracket Madness Winners
Grand Prize: Perfect Bracket – $10,000 – NO WINNER
1st Place – $1,000 – Neil H. – Onalaska, WI
2nd Place – $500 – Shannon E. – Tyler, TX
3rd Place – $250 – Maggie K. – La Crosse, WI
Congratulations to the following charities who will be receiving $1,000!
• The Mentoring Alliance – Tyler, TX
• Boys & Girls Club of La Crosse – La Crosse, WI
• Boys & Girls Club of Rochester – Rochester, MN
• Big Brothers Big Sisters of Clarksville – Clarksville, TN
Altra is again sponsoring a free Classic Style NCAA Men's Basketball Division 1 Brackets game for anyone age 13 or older. Altra membership is not required. Altra will donate $1 for each bracket submitted (up to $4,000) to charities in our four core markets. Be sure to Like and follow us on Facebook for updates and announcement of the winners!
No purchase required. Must be age 13 or older to enter; Altra membership not required. Altra will donate $1.00 per entry, up to a maximum of $4,000, to be divided equally between the following charities: Boys & Girls Clubs of Greater La Crosse, WI, East Texas and Rochester, MN; and the Big Brothers Big Sisters Club in Clarksville, TN. Grand Prize: Any Participant(s) who select(s) a valid perfect bracket (the correct selection of all 63 matchups) prior to the start of tournament will be eligible for the $10,000 Grand Prize; view complete disclosure. 1st, 2nd and 3rd place prize winners will be contacted by Altra and prizes will be awarded by Altra. Altra Federal Credit Union employees are not eligible for prizes listed; direct family members/spouses are eligible to win all prizes listed..
​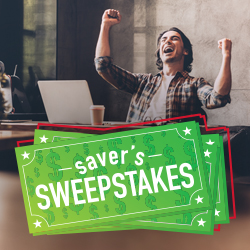 Saver's Sweepstakes
Wisconsin, Minnesota, Illinois, & Texas residents only.
Saver's Sweepstakes™ is a new prize-linked savings account at Altra. Saver's Sweepstakes offers prize drawing entries in return for each time you increase your savings balance by $25 (up to 6 entries per month)*. Prize drawings are held monthly, quarterly and annually – so the more you save, the more chances you have to win! You could even end up winning the grand prize of $5,000!*
Account earns 0.40% Annual Percentage Yield. *
*Saver's Sweepstakes™ available to MN, WI, TX & IL residents only. Membership eligibility required; personal and UTMA accounts only. Joint account holder age 18 or over is required on all Minor accounts. One account per Primary account holder per  participating credit union; you may be a Joint account holder on multiple Saver's Sweepstakes accounts at Altra. $25 minimum opening deposit; $25 minimum balance required. Earn prize-drawing entries for every $25 increase (up to 6 entries per month) for 12-month savings period. Prize drawings held monthly, quarterly and annually. Maximum two (2) withdrawals during any 12-month period, third withdrawal closes account and disqualifies account holder from prize drawings). Withdrawal penalties waived during first 7 days after account opening. Account earns 0.40% Annual Percentage Yield. Rates subject to change. Contact Altra or visit 

www.altra.org

 for complete details.
​