*Annual Percentage Yield (APY) based on Thrive certificate term. $1,000 minimum balance required. Dividends will be paid quarterly. The 7-month certificate will automatically renew to a 6-month certificate upon maturity.  Penalty may be imposed for withdrawals made before certificate maturity. Membership eligibility required.  Available for personal and business accounts.  NOT available for IRAs. No Bump-Up provision allowed.  Rates subject to change. Limited time offer.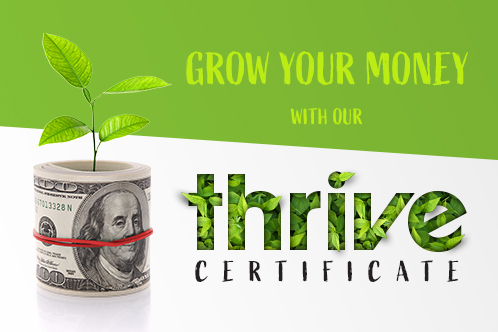 Your money will Thrive.
Grow your money with Altra's Thrive Certificate. Choose your term. Limited time offer! Check out today's best certificate rate available. 
Choose your term. Limited time offer.
Find your certificate rate available in your area.
Open a New Account Today!

Apply Online

GET STARTED!
Visit Your
Nearest Branch


Call Us Today
800-755-0055