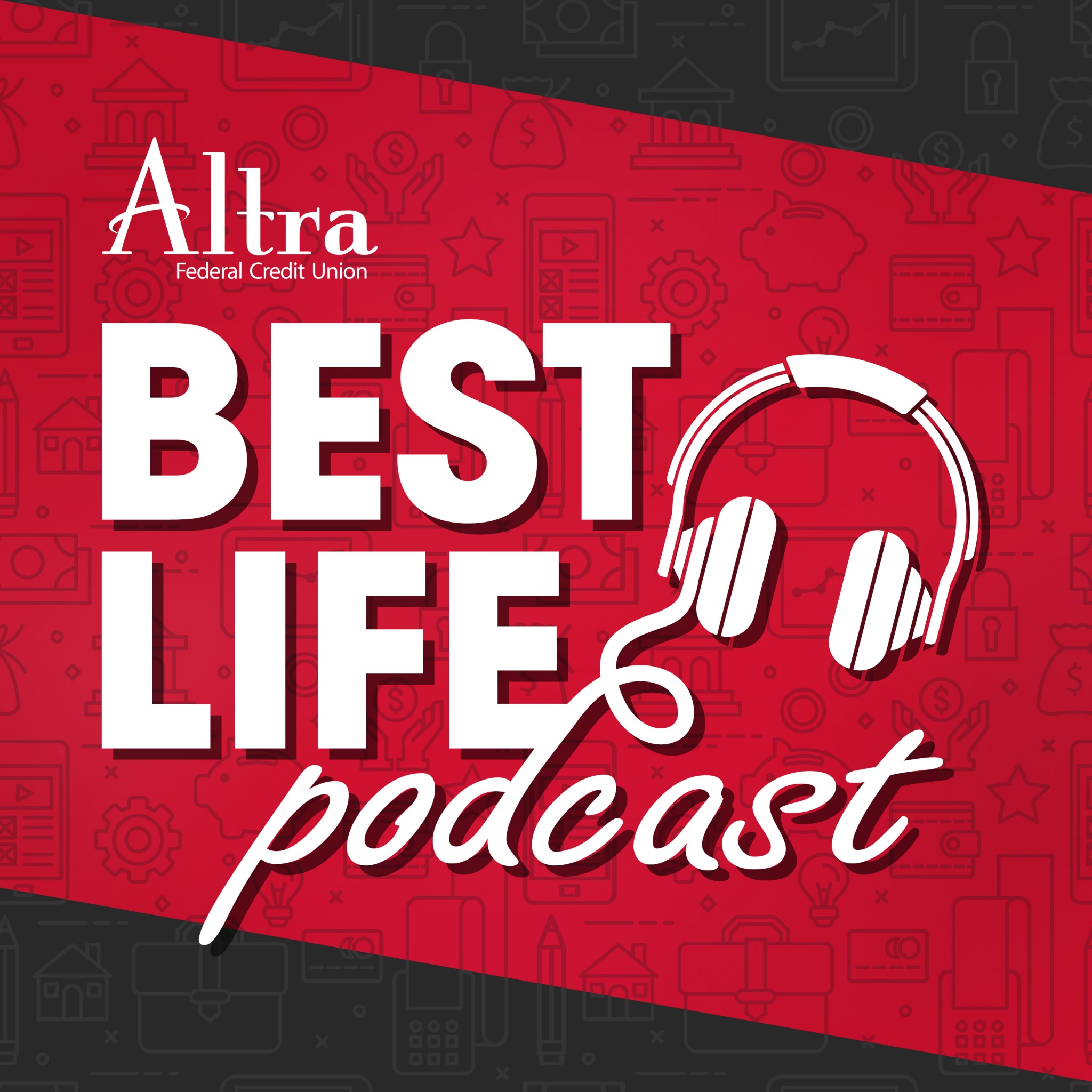 On this episode of the Best Life Podcast we discuss everything Altra is doing for April, which is Financial Capability Month and Credit Union Youth Month. Tony welcomes back Altra's Youth Strategies Manager, Danielle Anderson, to discuss the different youth contests this month, a $20 match for new youth members, a new app that can help users earn while they learn, and also about Altra's Banzai Scholarship for high school students.
Transcript
(Tony Beyer)
Hello and welcome to the Best Life Podcast where we here at Altra Federal Credit Union are helping you live your best life. I'm your host, Tony Beyer, Financial Wellness Coordinator, and I'm so glad you could join us for this episode. April is Financial Capability Month and it's also Credit Union Youth Month, celebrating all things financial wellness. Last April, we spoke with Danielle Anderson, she is Altra's Youth Strategies Manager, and I must not have her too badly because she's back to join us on the podcast to give us an update on our youth financial education and also our programs, which are very important to me, and I know they're important to you too, so, we really appreciate you taking the time because I know Altra has a lot going on this month and you are extremely busy Danielle.
(Danielle Anderson)
Yes, we are gearing up for all things, youth month, and lots of fun things going on.
(Tony Beyer)
So, tell us a little bit about what are some of the fun things going on in April for youth month.
(Danielle Anderson)
Yeah, so this year's theme is going to be "Save Small, Dream Big" and we're really encouraging our youth members to save, even if it's just a little bit so that they can work towards those goals and those dreams that they have. So, we're celebrating with a $20 match. That goes through the end of April, So anybody that opens an account that 17 and under through April 30th and puts $20 in, we are going to match that $20 for them, and then we also have lots of fun things going on in the offices. We're doing activity, sheets on tables, we have a coloring contest going on. You can pick up your sheets in any office or if you're not near one of our offices you can download it online on our contest page. And we're giving out four $25 Visa gift cards for those. And then we've also got some fun stuff going on on Facebook. We're doing a coin scavenger hunt with our mascot Cash, and each week he's presenting a different coin that we want children to go through their home and find and we're giving away a $25 gift card each week for that as well.
(Tony Beyer)
Excellent! So a great way to get started with saving even just a little bit at a time, it's going to turn into something bigger…and also know that the sooner you start saving, the more you're going to have in the future. Another way to learn more about the importance of saving, spending plans, credit, pretty much everything financial related, we have an app for that where people are able to earn and also learn while they're doing it, tell us a little bit about that Danielle.
(Danielle Anderson)
Absolutely. So, we actually just launched a new app, it's called Zogo and it has over 500 bite-sized modules. It is geared towards teens and young adults, but we have found that really all ages are really getting into it. As you said, they can learn and earn. So, users are actually able to go through each of the modules, which only take a few minutes and they earn pineapple points, and then those points are turned into real-life gift cards to stores, like Target, Walmart Amazon, and so many more and it's just a really fun activity to do when you're sitting on the couch, you know, during commercial breaks or sitting at the dentist office waiting to get called back, because they really do only take a few minutes.
(Tony Beyer)
Yeah. It's a great thing to do and like you said, whenever you get a little spare time, it's something that that I've enjoyed doing, I know that my wife is done it a little bit too as well…why not? It's, it's really for a wide range of ages. I think everybody can benefit and again, that's Zogo, and you can get that at the Play Store, the iTunes Store….I don't know Apple stuff…sorry.
(Danielle Anderson)
Yeah. It's available on both platforms, The Google Play and Apple iTunes, and like I said, we're finding all ages are getting into it. It goes anywhere from opening a checking account to, what's a credit card, what is credit, and it even talks a little bit about cryptocurrency which is a huge thing right now.
(Tony Beyer)
Absolutely. That's a big topic and there's no cost to the app whatsoever, so, you might as well do it. Learn and earn a little bit while you're doing it, and while we're talking about money, Danielle, I wanted to ask you about the Banzai scholarship. Last year was a great success. What does year two have in store Danielle, for those applying for that Banzai scholarship?
(Danielle Anderson)
Yeah, so last year, we had a ton of applications come in for our very first year and we were so excited about that that we actually decided we were going to do two scholarships this year. So, we're doing two $5,000 scholarships that are available through April 30th, and it's really because you know, we understand the importance of providing financial education to the community, so we're not requiring membership for this. It is really available to any high school student that is in grades nine through 12. We want to make sure that this is available and people are enjoying it and getting what they need. So as long as you complete the program, whether it's through your classroom teacher or on your own, through our website on altra.org, you can finish that module, and then applicants just need to complete the few short essay questions on that application and tell us what your post test score is. You do need at least an 85 percent or higher and then you're pretty much eligible, and like I said, that goes through April 30th, and we're accepting applications by email or by uploading them to our website.
(Tony Beyer)
Excellent! And we're recording this podcast, the third week of April, so there's still a little bit of time to apply for the Banzai scholarship, but again, we're giving two $5,000 scholarships and we're only asking for an 85%, you know, a solid "B," that's all we need. You know, if you're an a, if you're an overachiever, even better, but that's what we're asking for 85%.
(Danielle Anderson)
Absolutely.
(Tony Beyer)
I mean, answer some questions, real easy to apply, and again, you could do that on our website at altra.org.
So, we are talking about how important financial education is, financial wellness, and how important that is to youth, and you as the financial, excuse me, the Youth Services Manager, Danielle, and again, thank you so much for joining us. Why is it so important that you know, especially those that are young, are exposed to financial education, they have access to programs resources. Tell us about how important that is for those that are that are younger.
(Danielle Anderson)
Of course, it's something that everybody feels that they need when they get older. You know, parents aren't always comfortable talking to their children about this topic, you know, there's articles that are published on, you know, a monthly basis from top news sites that say financial education is so important, where do we get this information? And a lot of people don't know that we do offer so many different resources and it's all free. We have classes that we do on weekends and during the week for children, for adults, and actually coming up this summer, we're going to be doing our cash camps again, and you'll actually notice, if you've followed a long before that we are actually lowering the age of this year to seven. So again, it's the younger that they get in and start understanding those concepts, even just something as simple as coin recognition or the dollar bill recognition, or understanding a little bit of the history. How money is made, how it's earned, how you can spend it, you know, it's not this little plastic "swipey thing" that you can take and purchase whatever you want, whenever you want. It's important to have a budget to have a plan and we really need to make sure that the younger generation has those Concepts in place so that they can be successful in the future.
(Tony Beyer)
Yeah, and I appreciate you bringing up those youth camps because already, I mean, we're already in the spring but those are going to be coming up here really, really soon, and we'll have information in the show notes here in the episode description, how you can get more information on our financial education, resources, and altra.org is going to be where we're going to put that information which is going to be available here in the near future. So, I know that you get a lot of feedback from all the different education that we offer all the different events and things like that. Tell us what does it feel like to be able to provide these programs and really helping, you know, kids, helping families, helping really our community. How does that feel?
(Danielle Anderson)
It feels great, you know, I whenever I go into a classroom or I'm talking to students, the first thing I tell them, especially high school students, we are very fortunate that a lot of our schools in the La Crosse County Community, which is where I'm located, require Personal Finance in order to graduate. And one of the things that I always tell them is, you know, I wish that I would have taken a personal finance class in high school. And the funny thing is I was going through some report cards a couple of years ago because my mom gave me this big box of stuff when they went to move and she's like here you can have all of this now and I found a bunch of my high school report cards and turns out, I actually did take a personal finance class, and it's one of those things where you don't think you need it at the time. I'm happy to report that I did get an A in it, but you don't think you need those concepts at the time. It's you find yourself in a situation and that's when you are like, oh my gosh, I wish I would have known this! And if you can get a good grasp on it at a younger age, you will either be able to prevent those things from happening or it'll help you in the future to be better about that situation. You know, learning something, like I said, as simple as coin recognition all the way up to what is short-term disability and health benefits. That is all part of financial education and knowing those important topics.
(Tony Beyer)
Yeah, and like, you mentioned with getting the financial education, the personal finance that you took in high school, and kind of forgot that you took the class. I know that I took classes too, but didn't really, you know, they seem to, you know, when I really needed them forget, so really goes to show those skills and we can always continue to keep learning. It's one of those things that we keep it on the top of our mind, and it's, you know, what this month is all about, Financial Wellness Month, talking about that. And again, we're talking with our Youth Strategies Manager. Danielle Anderson. That's all the questions I have for you Danielle. Are there any questions that I haven't asked or is there anything that you wanted to talk about Danielle?
(Danielle Anderson)
Like I've said, it's just so important to learn these topics at a young age and it's nice that there are resources out there that don't necessarily have to be mom and dad. You know, students, don't always listen to teachers or mom and dad. Sometimes they'll listen to an outside source, so definitely look for those classes that we offer, the resources that we have on our website and get them into them. They're free, and they're fun, and you can really do them at any time that you want. It's not a huge time commitment, but they still get the education that they need.
(Tony Beyer)
Absolutely. And you can find more information on our website at altra.org. Thank you so much Danielle for taking the time. I know you're incredibly busy, especially right now during April so we really appreciate you being on the podcast.
(Danielle Anderson)
Of course. Thank you so much!
(Tony Beyer)
On this episode of the Best Life Podcast we spoke with Danielle Anderson, who is the Youth Strategies Manager for Altra Federal Credit Union.
Well, that's going to do it for this episode of the Best Life Podcast presented by Altra Federal Credit Union. We appreciate you taking a moment to learn how you can live your best life. If you have a question or a topic you'd like us to cover, send me an email at: tjbeyer@altra dot org and who knows, it may even make it into a future episode. Don't forget to follow the Best Life Podcast pretty much wherever you get your podcasts or find it on our website at altra.org. Thanks again, be well, and we'll talk to you again soon.