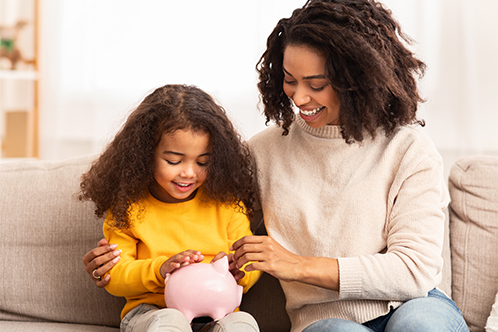 We'll Reward you for Saving!
After 15 deposits of $5 to your savings, we will deposit $5 into your regular savings account!*
Program Details
Age 0-12, auto enrolled program
After 15 deposits, we will put $5 into your regular savings account (counter will restart each quarter)

Quarter 1: Jan 1 – Mar 31
Quarter 2: April 1 – Jun 30
Quarter 3: July 1 – Sept 30
Quarter 4: Oct 1 – Dec 31
Deposit must be made to a savings accounts
All deposit types will count (except dividends and refunds)
Maximum of 1 deposit per day will count towards the 15 deposits
Deposit cannot be split between accounts and must be full $5 to qualify
Program is subject to change or terminate at any time.
Offer valid for Altra members ages 0-12. Receive a $5 cash reward with each set of fifteen (15) deposits of $5 minimum made to an Altra Savings account during a quarterly period. To receive offer, a full $5 minimum is required per deposit; set of 15 deposits required per account. Minimum deposit cannot be split between accounts. Maximum one (1) $5 minimum deposit per day per account may count towards a set of 15 deposits. Each deposit must be posted in person or online by 2 pm CST. Quarterly periods include Jan 1-Mar 31, Apr 1-Jun 30, Jul 1-Sept 30, Oct 1-Dec 31; each quarterly period ends the last calendar day listed at 2 pm CST. Dividends and refunds excluded. $5 cash reward will be deposited into the Altra Regular Savings account within seven (7) business days of each qualified set of 15 deposits posted. For tax reporting purposes, cash reward may be reported as dividends. Membership eligibility required. Annual Percentage Yield (APY) .05%, current as of 10/1/21; subject to change. Savers Sweepstakes accounts not eligible.  Program subject to change or terminate at any time.

Apply Online

Get Started!
Visit Your
Nearest Branch


Call Us Today
800-755-0055