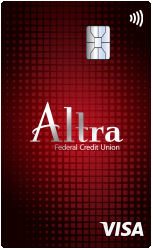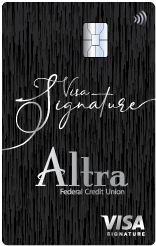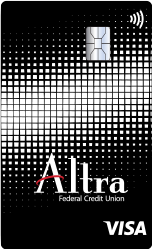 Go (Traditional Rewards)
Contactless, just Tap & Go to pay! Get cash back or use your points towards Merchandise, Store Gift Cards, and Travel Gift Cards.

Visa Signature
Contactless, just Tap & Go to pay! Expanded Rewards Program that offers travel rewards sooner and a Cash-Back Rewards option plus a host of additional Visa Signature Services.
Now (Non-rewards)
Contactless, just Tap & Go to pay! A low rate card to make everyday purchases or start your credit history.
Altra Visa Credit Cards are Loaded with Advantages
$0 Liability protection backed by Visa
Contactless & EMV chip card technology
Purchase & Fraud Alerts
Free E-statements
Online autopay, balance transfers and line increases
Free travel & emergency assistance; emergency cash & card replacement (some restrictions may apply)
Discounts on other loans
Security Benefits with your Visa® Debit or Credit Card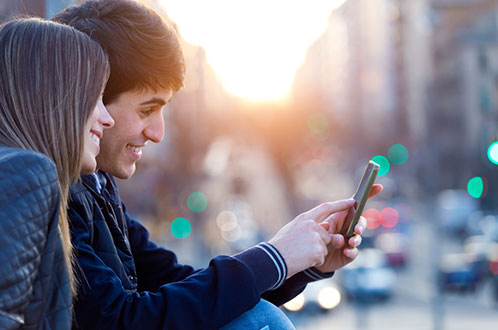 Visa Purchase Alerts
Get a text or email whenever you pay with your Visa card.
Alerts from Altra powered by Visa® help you reduce fraud and monitor your spending anytime, anywhere. With near real-time alerts, you can receive updates on your Visa® card activity through text messages and email. And this service is available free for Altra Visa® cardholders.*
Visa Click to Pay
Easily pay online with Visa Click to Pay at your favorite stores with a single sign in.
Pay online faster.
Stop filling out forms – Your payment and shipping information are saved so there is no time wasted.
Use your existing Altra Visa Credit or Debit card.
Works on any device – Make online purchases from your computer, tablet, or phone.

Visa PayPal
Shopping is easy and secure with your Altra Visa Card and PayPal
Link and use your Altra Visa® Credit/Debit Card with your PayPal account to check out online. You'll enjoy the added convenience and extra layer of security that come with your Visa® card. Plus, you'll save time with no need to enter all your financial information every time you make a purchase.
*Actual time to receive Alert dependent on wireless service and coverage within area. Alerts service may not be available in all areas. Gasoline alerts may not include purchase amount. Account activity qualifying for Alert service may vary by issuer. Additional restrictions apply. © 2009 Visa. All Rights Reserved.
Travel Notice
Don't be stranded! 
Going across the country or around the world? Before you leave home, click on "Travel Notification" on the Online Services menu in Online Banking to submit travel plans to be added to your Altra Credit and/or Debit Card. This minimizes the chance of cards being declined. Enter the last 4 digits of your cards, travel dates and destinations, and the best way to contact you.
You can also call Altra's Member Contact Center at 800-755-0055 or visit your local branch to speak to a member service specialist so we can add a note on your account. Whichever method you choose, please allow one business day to have your cards updated with your plans.
CURewards/CURewards Mall/CU Deals/Visa Discounts
With the FREE CU Rewards Mall program, you can earn extra CURewards Mall point's in-store or online with your Altra Visa Rewards credit card.  Every month CU Deals brings you exclusive offers only available to rewards members.  Make the most of everyday purchases with coupons and discounts through Visa Merchant Discounts.  Redeem reward points for merchandise, gift certificates, cash back and travel gift cards.
CARDHOLDER BONUS!
Earn double CURewards points during the first 90 days of opening your credit card account. New Cardholders are eligible for any promotional rate in effect at the time the card is opened.