IMPORTANT: Altra Credit Card Conversion
Your new Card has the same rate & terms as your old card, however, it has a new number, new expiration date and new security code. Once you receive your new card, you will need to activate it, add it to Altra's online credit card payment system within Online Banking and delete your old card from the system. Please follow the steps below.
Add Your New/Replacement Card
1. Log into online banking
2. On the Account Summary page, scroll to the Credit Card section.
3. Click on the last 4-digits of your Credit Card that are listed, or click the "Card Details" button

4. In the Right Side Navigation panel, select "Add New Card".
5. You will be asked to enter your new credit card account number and the primary account holder name as it appears on the card.
After your card is validated, you can set up Make A Payment, eStatements and free CURewards.

Remove Your Old Card
Your old card will automatically be closed 30 days after the new credit card account number is issued, even if you do not activate the new card.
After you have activated the new card, we recommend that you remove your old credit card number from online banking. Please print or download any history for the old credit card before removing it because your old card history will also be removed.

Make A Payment
Select the "Payments" tab at the top of the screen
Choose a one-time payment or automatic payment
Confirm the checking account you want to use to make the payment.
(Savings cannot be used as a payment source).
First time Making a Payment?
You will need to set up the checking account you want to use to make the payment. You will need:
Altra's routing number: 291881216
Checking MICR # – The 10-digit checking account number shown on the bottom of your checks (see example).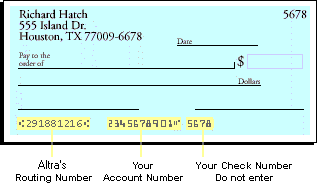 Update or Set Up Automatic/Recurring Payments
If your old credit card is set up for automatic bill payment  items, payroll deduction payments, or as overdraft protection, please contact Altra or the merchant to update your records with the new credit card account number. It may be helpful to check past credit card statements to identify all automatic payments or debits. If you have questions, please contact Altra at 800-755-0055.
Set Up Your Credit Card eStatement
New Credit card
Cardholders will need to enroll in Credit Card eStatements. You will receive an email alert when your credit card eStatement is available to view within online banking.
1. Select the Statement and Activity Tab and choose "Go Paperless" in the right side navigation panel.

2. Accept the Terms and Conditions and click submit.
3. Click the "Accept" button to finish the process.
Replacement Card/Card Upgrade
Cardholders do not need to re-register the new credit card for eStatements. Your new credit card account number will automatically update two days after the new account number has been created.
Set Up CURewards
Click the CURewards logo then click the CURewards catalog link. A new window will open and you will be asked to create a new profile for your new Card.