Register your Credit Card and Debit Card for Fraud Alerts
You can now register your own card for Fraud Alerts through Online Banking. Click the Link below for a Step-by-Step guide on Enrollment.
Travel Notice
Don't be stranded! 
Going across the country or around the world? Before you leave home, click on "Travel Notification" on the Online Services menu in Online Banking to submit travel plans to be added to your Altra Credit and/or Debit Card. This minimizes the chance of cards being declined. Enter the last 4 digits of your cards, travel dates and destinations, and the best way to contact you. 
You can also call Altra's Member Contact Center at 800-755-0055 or visit your local branch to speak to a member service specialist so we can add a note on your account. Whichever method you choose, please allow one business day to have your cards updated with your plans. 
Beware: Tax Scam Calls
People across the US are getting phone calls or emails from scam artists who pretend to be from the IRS or Department of the Treasury. They demand immediate payment of overdue taxes and threaten lawsuits or jail. They look and sound convincing, but they are trying to steal your money and your identity.
The IRS does NOT make initial contact with taxpayers by phone or email. Click the link below for tips from the IRS to help you avoid being a victim of a tax scam:
Scam Text Message: Debit Card Blocked
Members and non-members who have mobile numbers with a 608 area code are receiving scam text messages saying their Debit card is blocked. There is a link in the text to sign in to unlock, which takes them to a fake Altra mobile banking site.
If you receive one of these texts, DO NOT CLICK the link or enter any personal information. Never access any mobile financial site unless you are using the official app icon from the app you downloaded from iTunes or the Google Play Store.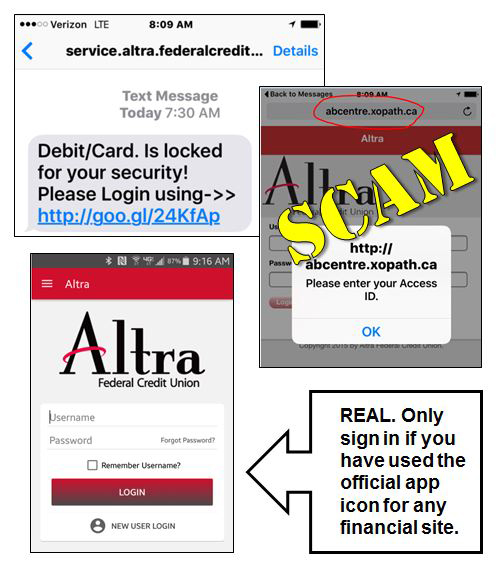 Suspect Fraud?
Altra offers two Fraud Monitoring and Identity Theft Resolution programs for members:
Altra Secure ID – Free ID Theft Resolution
If you have an Altra checking account or credit card, you and your family have access to Altra Secure ID, a free identity management service powered by CyberScout™. This service is available for when a member has had an identity compromise. It does not provide pro-active monitoring. Learn more
Altra Secure ID Monitoring – 24/7 Fraud Monitoring & Protection
Consider adding additional protection with Altra Secure ID Monitoring, a comprehensive identity protection and management service powered by CyberScout™ Learn more about this subscription service
Altra will never contact you directly to verify any account information over the phone or through email. If you have any questions or concerns, please call us at 800-755-0055. If you receive an email purportedly from Altra that you feel is suspicious, please FORWARD that email to [email protected] to verify its authenticity.