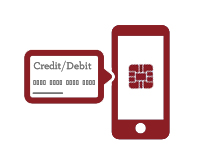 Add your eligible Altra Card to Apple Pay using Passbook/Wallet.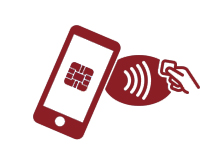 Hold your iPhone® 6 or iPhone 6 Plus or later near a merchant's card reader, and authorize your payment with your finger on Touch ID™.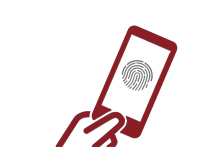 or Pay with your fingerprint in a participating merchant app with your iPhone 6, iPhone 6 Plus, iPad Air 2­™, or iPad Mini 3™.
Make your Altra card Apple Pay ready
It's easy to add your Altra card to Apple Pay. Here's how: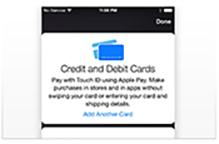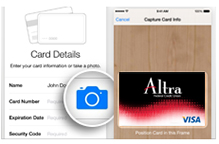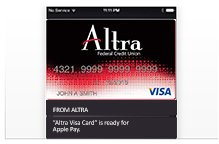 Open Passbook/Wallet on your new iPhone or iPad and select the link in the Credit and Debit Cards section. On iPhone, you can also just open Passbook/Wallet, then swipe down and tap the plus sign.
Tap the camera icon and take a picture of your card to automatically enter your card information or type it manually. The card you had stored in iTunes is your default payment card, but you can always switch it in Settings. Enter the security code found on the back of your card.
Now you're ready to use your Altra card in Apple Pay.
Mobile convenience – safe & simple
It's our goal to make access to your money safe and simple whenever and however you need it. When you make payments with Apple Pay:
Your full Altra card number is not stored on your phone or shown to the merchant.
You have Zero Liability protection for promptly reported unauthorized transactions.
You are covered with 24/7 risk and fraud detection systems.
If you are enrolled in a rewards program, you will continue to earn the benefits available with your card.
You can get account activity alerts and view your transactions on your mobile device.
Apple Pay will work with our personal and small business cards including Altra Visa® Credit and Debit cards.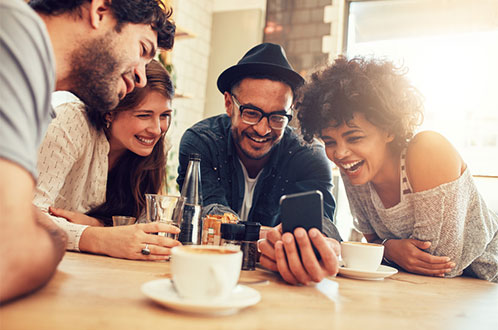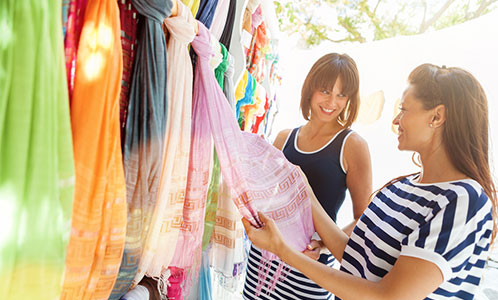 Where you can use Apple Pay
Apple Pay is available in merchant apps and at more than 220,000 stores and restaurants – and more in the near future.
Your security is our top priority
When you make payments with Apple Pay and your Altra card:
Your full card number is not shown to the merchant.
Transactions are monitored by Altra's risk and fraud detection systems.
Purchases are protected by Zero Liability, so you won't be held responsible for promptly reported unauthorized transactions.
Learn more
To find out more, including the steps to load your cards, click the link below to read our Frequently Asked Questions.
"Apple, the Apple logo, iPhone, and iPad are trademarks of Apple Inc., registered in the U.S. and other countries. Apple Pay and Touch ID are trademarks of Apple Inc.