The best way to fight fraud is to prevent it
Altra offers has added multi-layered security in our popular Altra Pay ~ Send Money mobile feature with a scrambled virtual PIN pad that allows you to use your Debit Card PIN to safely, securely send money to family and friends.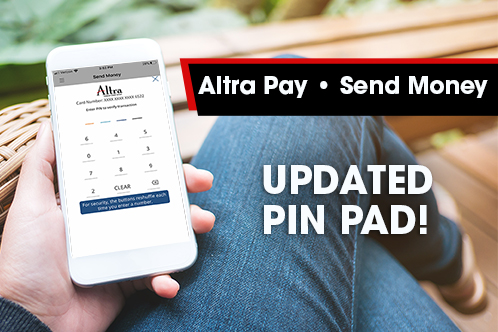 An update for Altra members…
Based on information we are receiving, we are planning to keep all Altra branch lobbies closed during April. We will be monitoring the situation in each of our communities to determine when we will be able to re-open one or more lobbies and will keep you updated.
As an essential business, we continue to conduct in-person business through the drive-up lanes at branches that have drive-up lanes. Those branches are accepting deposits, loan payments, and documents in their night deposit boxes.
We are so grateful to you for your patience, understanding, and willingness to try new ways of doing business. Of course, none of this would be possible without the dedication and commitment of our staff. They have truly been heroes during this time, juggling family and work responsibilities with grace and humor.
Altra is still here for you
We want to remind you almost all business can be done electronically or over the phone and we ask you to use those channels whenever possible. If you're not currently using our free Online or Mobile Banking, you will find detailed instructions at www.altra.org for getting started or for resetting a forgotten password. 
Don't hesitate to contact us! Loan rates are low and many members are taking advantage of them. For every staff member you see in a drive-up, there are a dozen or more working behind the scenes answering calls, processing loan payments, and approving and loan and mortgage applications. 
We're all in this together
Be wary of new scams trying to defraud people as government relief payments are sent. If you have elderly relatives or neighbors, check in with them and let them know you're available if they have questions about a call, email or text they receive asking for personal information. 
Finally, remember Altra is well-capitalized and financially strong, and your deposits are insured by NCUA and backed by the full faith and credit of the US Government.
Altra is here with what you need to live your best life in challenging times.
If you're struggling with payments, you may qualify for our 2020 Relief Loan and/or a 90-day Altra loan payment deferral. If you have balances on high-rate credit cards, you can transfer those balances to an Altra Visa Credit Card without paying a balance transfer fee and get a fixed rate for the life of the balance. If you have equity in your home, you can open a Home Equity Line of Credit with low or no closing costs and no annual fee, or you may choose to take advantage of low rates and refinance your home to get cash for immediate needs. If you're looking for ways to stay safe while you're buying essentials, you can use Mobile Wallets and Tap to Pay.
We can help you find the solutions to your unique needs. It's what we do. Just click to find out more about these offers.
Stopping fraud is everyone's job
Something that's become apparent these past weeks is how dependent we are on each other to maintain a social safety net. We've seen uplifting examples of people reaching out to help neighbors and emergency workers. Unfortunately, we've also seen a huge increase in fraudsters and identity thieves trying to take advantage of fear and confusion, and we've seen members fall victim to them.
When members give out personal account information to fraudsters and identity thieves, Altra reacts in several ways. First, we help the member restore security on any affected accounts, then try to help them recover from any financial loss. We do forensic analysis to determine if other members have fallen prey to the same scam. We report fraud to local authorities. In addition to these actions, we often need to add additional security or limit access to services to create "virtual speedbumps" to minimize or prevent further losses.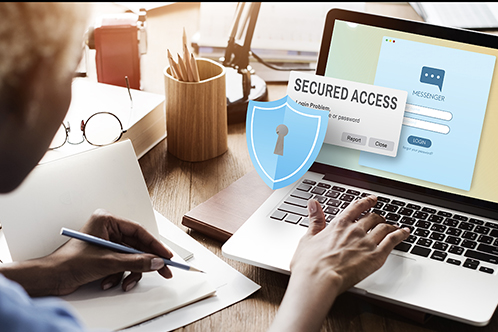 Help us protect all our members
Do not give out ANY personal or account information to ANYONE who contacts you by phone, email, or text. No reputable business, financial, or government agency will ask you to do this. No trustworthy person will question or pressure you to act right now.
Verify unusual or suspicious contacts by reaching out to the company directly before clicking on any links or giving out any information. Do not use phone numbers or email addresses in the suspect communication to verify; use a published or known number.
Heed warnings from Altra staff. We have staff dedicated to security and recognize attempts at fraud before members do.
If you do give out any information, call us immediately so we can help you minimize losses.
Increased Login Security
Altra is enhancing your online log in security as another way to be here for you during these unprecedented times. We have introduced Captcha as an added layer of protection when logging into your accounts.  This code is a series of letters or numbers that cannot be read by computers pretending to be you. Please note – CAPTCHAs  are case sensitive when you type them in the box. Just click the Log In button on Altra.org to begin.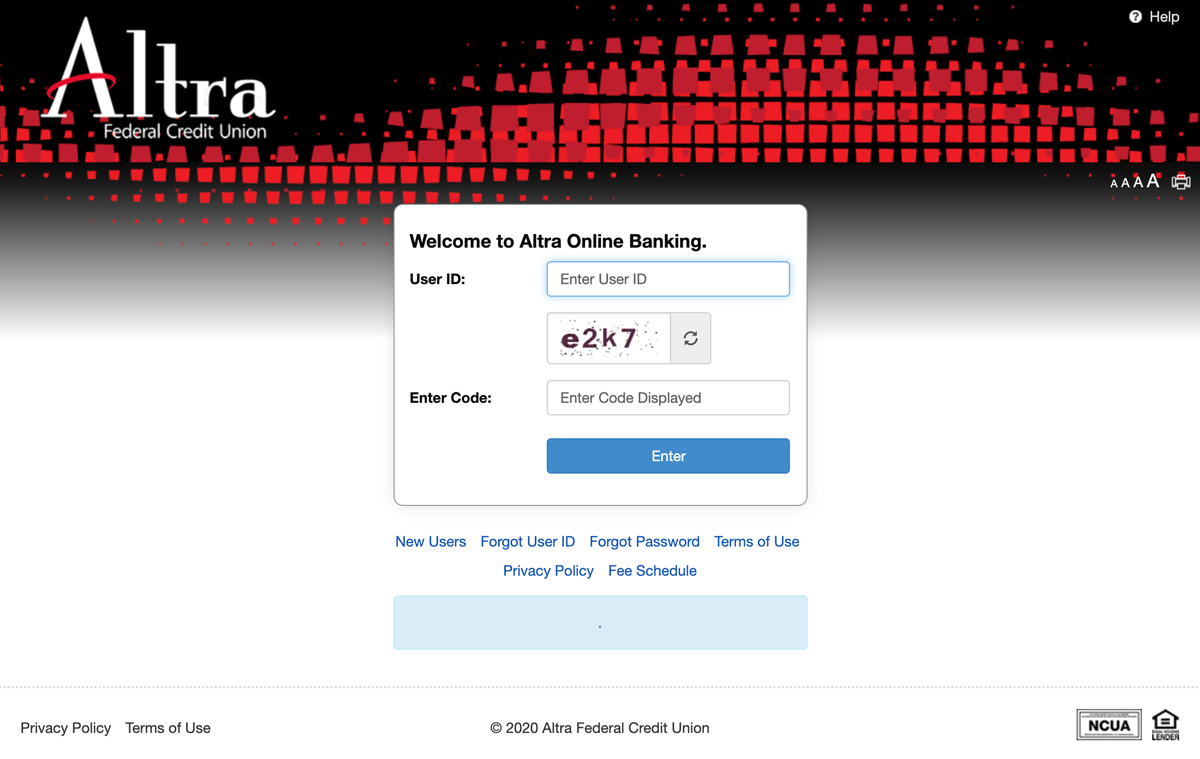 ---
March 20, 2020
Altra is here for you
With no end in sight to disruptions caused by the global COVID-19 pandemic, Altra wants to assist members experiencing significant financial hardship as a direct result of illness, business shutdowns, or shelter in place orders.
On a case by case basis, Altra's Credit Services Department can offer flexible short-term remedies. Deferred payments and loan modifications are some of the options available to protect you from negative consequences of missing payments.
If you are affected by the COVID-19 pandemic and anticipate not being able to make loan, mortgage, or credit card payments, please contact us at 800-755-0055 or send an email to [email protected] with your name, phone number, and the subject line Loan Assistance. Please do NOT include account numbers or other personal info in an email. We will be responding as quickly as possible.
---
March 19, 2020
Safety & Soundness
Looking for additional information?  We have created this FAQ just for you. 
To Altra members…
With guidance from the CDC and state health authorities, we have made the difficult decision to limit person-to-person contact by suspending service in all Altra branch lobbies at the end of the day on Wednesday, March 18.
We are also cancelling all Altra and Altra Financial Advisors events that were scheduled in March and April.
Starting Thursday, March 19, until further notice, we will only be conducting essential in-person business through the drive-up lanes at branches that have drive-up lanes. At those branches we will also be accepting deposits, loan payments, and documents in the night deposit boxes.
Altra is here for you
Our commitment to you is as strong as ever; we will just be serving you through new and different channels. Fortunately, almost all business can be done electronically or over the phone, and we ask you to use those channels whenever possible.
If you are not currently using our free Online or Mobile Banking, you will find detailed instructions for getting started or for resetting a forgotten password.
Staff members are still busy working behind the scenes to process loan payments, and approve and process loan and mortgage applications. We're ready to assist members through electronic communication channels or over the phone. While we are moving additional staff to our Member Contact Center, we thank you in advance for being patient as we handle what we expect to be a large volume of calls.
Please call us for additional information if you have a mortgage closing or other appointment scheduled or if you are facing extraordinary circumstances.
We're all in this together
While we deeply regret this significant inconvenience to our members, we need to work together as a community to prevent the virus from spreading to our most vulnerable neighbors (the elderly and those with chronic lung or heart conditions, diabetes, or a compromised immune system) and those who care for them. The safety and health of our members, our staff and their families, and our communities is our highest priority.
Staying financially healthy 
Unfortunately, just like in the days before Y2K, some fear mongers are trying to spread alarm and convince people they will not be able to access their money. This is not true. You do not need to withdraw more cash than usual and we do not recommend it. Withdrawing and holding large amounts of cash is not safe. Your Debit and Credit Cards and checks will be accepted for payment as normal.
As always, be wary of calls, texts or emails claiming to be from the government, a health care provider, the IRS, Social Security, Medicare, the police, or any financial institution that is asking for personal information or for a payment. No government agency or financial will contact you this way.
Finally, while there has been volatility in the markets, we want to reassure you Altra is well-capitalized and financially strong. Your deposits are insured by NCUA and backed by the full faith and credit of the US Government.
---
March 16, 2020
To our Altra members…
We're all watching the news about the Coronavirus (COVID-19) pandemic and wondering what will happen next. While none of our communities have been seriously impacted yet, Altra is aware that the situation can change rapidly and we are working to ensure our members and staff remain safe.
Altra is working to maintain service levels for our members through this unprecedented pandemic. We have plans in place to ensure your credit union will continue to meet all your essential needs. Please be patient if that service is delivered in new or different ways. At this time, we have many staff members working from home to slow the spread of any illness. Some staff members are unable to work until they arrange child care during school closures. Staff members are asked not to come in if they are sick. This is all to protect you, our member, as well as our staff, their families, and the community as a whole.
While you may not see as many front line staff working face-to-face with members, we are committed to maintaining staff levels behind the scenes. If COVID-19 spreads in our communities, we may opt to close our lobbies and only offer service through our drive-ups.
What is Altra doing?
Altra holds annual planning exercises to prepare for events like a pandemic, and we are putting those plans into action. We are increasing cleaning and sanitizing public spaces and have provided hand sanitizer for members in all our branches.
Our staff have been educated on hygiene best practices and directed to stay home if they are not feeling well or believe they may have been exposed. We are taking this very seriously and encourage you to do the same.
We will continue to monitor CDC advice and follow the recommendations of local and state authorities. We urge you to do the same.
We're working to keep business as normal as possible. What can you do to help? Please practice social distancing by not coming into an Altra lobby unless it is absolutely necessary. Please consider doing business with Altra in a slightly different way than you're used to (Online or Mobile), and please be patient if it takes a little longer than usual to do a phone or branch transaction.
We also ask you to be on alert for scammers and ID thieves trying to exploit fear and uncertainty. Remember – if you receive any call, text or email asking for your social security number or any account number, it's a scam.
Remember, we're here for you.
Altra continues to provide you with the best member experience possible. If you are told, or choose, to limit your exposure, we have technology in place that allows you to do business with Altra without visiting a branch. For convenience and 24/7 availability, we offer the following digital banking tools, which are easy to use.
​
We're listening to you.
If you have any questions or concerns, please do not hesitate to call us. If you are affected by the pandemic and unable to work, please contact us and we will look at your situation to determine ways we can assist you.
In times of uncertainty, there is one thing that remains constant – Altra's commitment to you.
Your Money is Safe & Sound with Altra
Altra is a strong financial institution with $1.7 billion in assets and over 11% capital, far above the regulatory requirements. We have been serving members for almost 90 years. For additional information please see our 2019 annual report.
Your accounts with Altra are insured up to $250,000 by the NCUA. You may qualify for more than $250,000 in coverage if you own share accounts in different ownership categories. The most common ownership categories for individuals and families are single owner accounts, joint accounts, retirement accounts, beneficiaries, and trust accounts. Refer to the link below for an estimate of your insurance coverage.